Yayasan UEM Scholarship Programme
32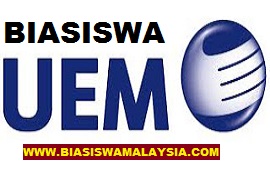 Scholarship
Yayasan UEM offer two types of scholarships:

1. Scholarship For SPM Leavers
Undergo a pre-university programme at Kolej Yayasan UEM (KYUEM) in Lembah Beringin, before furthering studies at renowned top international universities.

2. Scholarship For STPM/Matriculation/Foundation Leavers – Open
Undergraduate studies at these top local universities / IPTAs only – Universiti Teknologi Malaysia (UTM), Universiti Putra Malaysia (UPM), Universiti Kebangsaan Malaysia (UKM), Universiti Malaya (UM), Universiti Islam Antarabangsa Malaysia (UIAM), Universiti Sains Malaysia (USM), Universiti Utara Malaysia (UUM), MARA (UiTM; all nationwide campuses).
Field of Study
Business (Finance/Business Management/Accounting/Economics/Marketing)
Built Environment (Quantity Surveying/Town Planning/Land Surveying/Building Services/Building Management)
Engineering (Civil/Mechanical/Electrical)
IT and Computer Related (Computer Science, Computer System and Networking, Software Engineering)
Actuarial Science
Law
All applicants must be Malaysian citizens, proficient in English, hardworking, and possess positive personality traits. An outstanding extra-curricular record will be advantageous to your application.

Scholarship For SPM Leavers
Excellent academic track record in Form 4 & 5
Obtained a minimum of 7As (A+/A's) in relevant subjects in SPM examinations
Scholarship For STPM/Matriculation/Foundation
STPM/Matriculation/Foundation students in 2018, results announced recently, for university enrolment in September 2019
Obtained a minimum CGPA of 3.50
The scholarship covers academic expenses including tuition and examination fees, insurance, laptop, subsistence allowance and allocation for books as well as study-related equipment.
Amount Info
The Scholarship covers full academic fees, subsistence, book allowances, equipment allowance (for non-business students) and a notebook.
How to apply for UEM Scholarship 2020 (For SPM/STPM Leavers)
MORE INFO AND APPLICATION CLICK HERE
Updated!! Full Scholarships List 2020 Click Here
CLOSE DATE : 26 MARCH 2020| APPLY NOW!!