The ADB–Japan Scholarship (New Zealand)
Scholarship details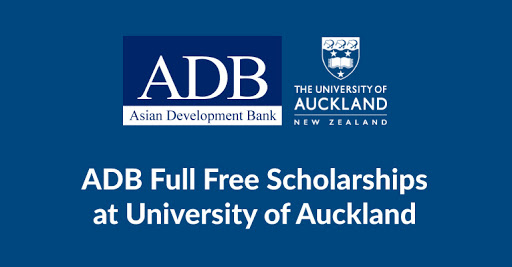 The ADB Scholarship to New Zealand is part of the ADB–Japan Scholarship Program (ADB–JSP) which enrolls about 300 students annually in academic institutions located in 9 countries within the Region. The other countries that this scholarship has partnered with are Hong Kong, India, Japan, Pakistan, Philippines, Singapore, Thailand, and the USA.
Upon completion of their study programs, scholars are expected to contribute to the economic and social development of their home countries. The scholarship is open to all students around the world.
The ADB Scholarship to New Zealand in particular covers a Master's education at the University of Auckland. Criteria
Applicant must meet all the below requirements
You must:
Be a national of an ADB borrowing member. For a list of current developing member countries visit ADB – Japan Scholarship Programme.
Have gained admission to an approved masters at an approved academic institution.
Have a bachelors degree or its equivalent with a superior academic record.
Have at least two years of full-time professional work experience (acquired after a university degree) at the time of application.
Be proficient in oral and written English communication skills to be able to pursue studies.
Be under 35 years old at the time of application. In exceptional cases, for programmes which are appropriate for senior officials and managers, the age limit is 45 years.
Be in good health.
Agree to return to your home country after completing the programme.
Preferred Discipline
University of Auckland programmes covered by this scholarship scheme are limited to the following:
Master of Public Health
Master of Science (Environmental Science)
Master of Arts (Development Studies)
Master of International Business
Masters programmes in Engineering.
Accounting & Business
Arts & Communication
Engineering & Architecture
Maths,Sciences & Technology
Medicine, Health & Sciences
Amount Info
The Scholarship covers:
Tuition fees at the University of Auckland.
Airfare from the scholar's home country to Auckland, New Zealand.
Basic cost of living in Auckland.
Health and medical insurance in New Zealand.
Airfare from Auckland, New Zealand, to the scholar's home country at the conclusion of his or her course of study.
For scholars engaged in research, a special grant may be available for thesis preparation.
How to apply for The ADB–Japan Scholarship (New Zealand)
To be considered for the scholarship, you must submit the following documentation in full prior to the closing date:
Completed ADB-JSP Information Sheet
Completed ADB-JSP Application Form
Copy of your offer letter to the University of Auckland
Academic documentation – both academic transcripts and degree certificates
Certificate of Employment for the duration of employment issued by the company
Certificate of Income issued by the company
Certificate of Family Income issued by the company. Must be either your parents or spouses annual/monthly income.
Copy of your Passport
Valid IELTS test
All of the above documents must be submitted in full by post and received by the University of Auckland no later than 19 July 2021:

Applications and Admissions
The University of Auckland
Private Bag 92019
Auckland 1142Contact Info

For more information, please contact:Address:

The University of Auckland
Applications and Admissions
Academic Services
The University of Auckland
Private Bag 92019 Auckland, New Zealand
Email(link sends e-mail)
Tel: +64-9-3737599

APPLY NOW!! | FOR FULL MALAYSIA SCHOLARSHIPS CLICK HERE!!

Advertisement





(Visited 515 times, 1 visits today)