JPA Scholarship – JKPJ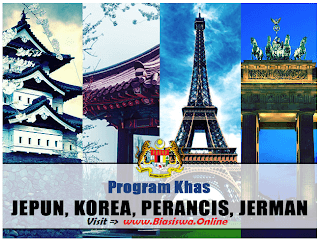 Scholarship details
Permohonan online bagi Program Khas Jepun, Korea, Perancis dan Jerman akan mula dibuka pada 9 Mac 2020 (Isnin) sehingga 18 Mac 2020 (Rabu).
+Criteria
Applicant must meet all the below requirements
General Conditions
Malaysian citizen
Sat for SPM for the first time in 2019;
has not reached the age of 18 years (19 years for transition students) during the SPM exam;
Candidates must have good health and not suffering from critical illnesses such as hepatitis, AIDS, HIV, etc;
The mother and / or father and / or family members are not blacklisted by the JPA or are in litigation JPA; and
the applicant does not receive financial support / sponsorship of any agency of the same level of education.
Click here for specific requirements based on country & course
+Preferred Discipline
Engineering
Social Science
Science & Technology
Engineering & Architecture
Maths,Sciences & Technology
+Amount Info
Unspecified
+How to apply for JPA Scholarship 2020 (JKPJ)
CLOSE DATE 18 MAC 2020 | APPLY NOW!!
Advertisement





(Visited 3,814 times, 1 visits today)